Murzasichle / Sądelska 129A street / TEL.: +48 515 616 260 / www
Beautiful old house situated in a large garden on the edge of the Tatra National Park in the highlander's village of Murzasichle. The house consists of two independent parts. Bigger one offers 9 bedrooms, 3 bathrooms, kitchen and living room with fireplace. The smaller one has two bedrooms (one with fireplace), a bathroom and a living room with kitchenette. The whole house can accommodate even 26 people!
RECOMMENDED COTTAGES: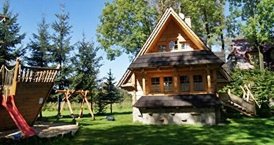 TEL.: +48 606 688 507 / www
Two lovely wooden cottages ( fireplaces) built and furnished in mountain style, located in the large garden (playground!) in a quiet area of Zakopane, about 3 km from Krupowki.
TEL.: +48 502 602 602 / www
Comfortable house situated in the big garden, consisting of two independent parts. Each part offers a living room with fireplaces and kitchenette and 4 or 5 bedrooms.
COTTAGES FOR RENT IN ZAKOPANE AND VICINITY: